Courses Taught:
United States History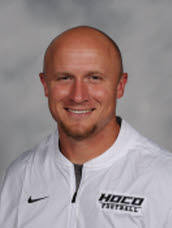 Jared Allen is entering his 6th season at Houston County High. He served three seasons as the 9th Grade Head Coach, Varsity Outside Linebackers and Quarterbacks. He now coaches Wide Receivers for the Bears. Coach Allen also coaches Varsity baseball for the Bears, as well as teaching US History.
Coach Allen graduated from Toombs County High in 2007, earning a baseball scholarship from Georgia Southwestern State University. He graduated from GSW in 2011 earning a B.S. in History with Teacher's Certification. Upon graduation, Coach Allen began working at Dodge County High where he served for 3 seasons as Varsity Defensive Backs coach as well as Head Baseball coach for the Indians.
Coach Allen married his wife, Megan Allen, in June 2011 and they have one son, Kadence Allen (3).